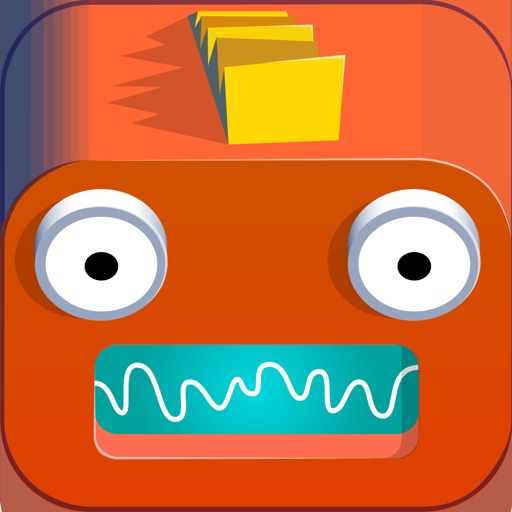 + Universal App
$0.99
Rating:
:: CONVEYOR BELT CRAZINESS
Exterminate the infestation of robots by creating paths of conveyor belts to reach their targets. It's a fun, unique, and addicting arcade puzzle game.
Developer:
Sauce Digital Limited
Price: $0.99
Version: 1.0.1
App Reviewed on: iPhone 5
Graphics / Sound
Rating:
User Interface
Rating:
Gameplay
Rating:
Re-use / Replay Value
Rating:
Overall Rating:
In Microbots players take on the role of a digital exterminator, while little robots are the pests. Paths are drawn from the microbots' starting locations to the targets where they will be exterminated. It's an addictive game with a cool retro style that offers a very unique experience.
This app's "line drawing" concept is nothing new to iPhone gaming. However, the twist is that the lines are actually conveyor belts that move the microbots in multiple directions across the map. This forces players to come up with a strategy so as to not allow too many bots on the map at one time, causing an infestation that will end the game. Another way to end the game is if the target becomes blocked by bots of a different color. A target may only exterminate bots of the same color.
Those bots that do make it to their respective colored target become exterminated. Players earn points for each bot that makes it to their correct target. At times, it may be necessary to change a bot's color before it can reach a target. For example, there might be a green bot without a green target to go to. Therefore, the player would need to draw a path to a color changing square before sending it to its new target.
To create the conveyor belts, players simply drag their finger on the screen from the microbot to the target. However, on the iPhone, the squares are a bit small and it becomes difficult to precisely create an accurate path. As more and more microbots enter the map, speed and precision become critical to maximizing points. Therefore, a suggestion might be to enlarge the size of the maps or squares so players will have an easier time creating paths.
New levels become unlocked as players earn more points and stars. There are 16 levels total in 4 different zones. This actually isn't much content for a game of this type. Also, these levels are very much alike, offering no real change in environment. Furthermore, each level plays basically the same way, making the gameplay feel stale after a while. I'm sure future updates will spice things up, but for now the experience loses some luster fairly quickly. Regardless, Microbots is still a game worth trying. Its retro style and unique concept are what really makes it a strong app.