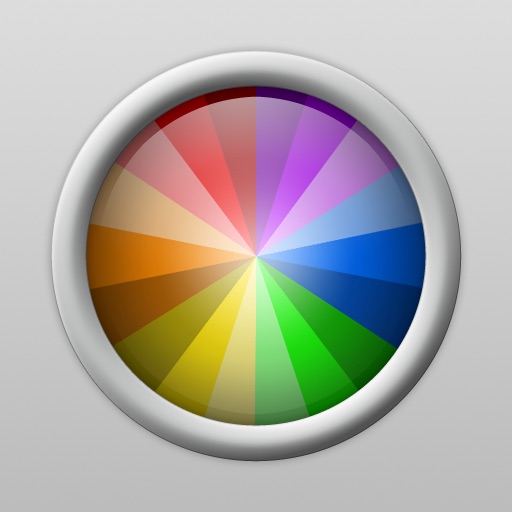 iPhone App
$0.99
Rating:
:: LIMITED USE
Loupe is a simple and straightforward color-picking tool designed to help you keep track of "inspirational" or useful colors. Unfortunately, its already narrow audience might be turned off by its lack of additional features.
Developer:
Studio Moustache
Price: $1.99
Version Reviewed: 1.0
iPhone Integration
Rating:
User Interface
Rating:
Usefulness
Rating:
Re-use / Replay Value
Rating:
Overall Rating:

Loupe is a utility app that acts as a color picker. Using either your iPhone's camera or the photos stored in your photo library, Loupe allows you to select colors and store them for later reference, complete with notes and hexadecimal color codes. The presentation is clean and intuitive, and overall it works well. However, it is a niche app and I can't imagine that most people would need to use Loupe often, if at all.
When you first open Loupe, you won't have any swatches saved, naturally, so you'll need to create some! The camera icon in the top-right corner opens up a menu, where you choose between using an existing image in your library or taking a new one with the camera.
From there, the image you selected is opened, and a gray circle—a "loupe"—is overlaid on top. Standard pinching gestures resize the loupe, and you can also drag it around. The portion of the image inside the loupe is sampled, and the average of the color values inside is chosen as the swatch color. You can slide and resize the loupe until you're happy with that swatch color, and once you're done, a simple tap of a button saves the swatch. You can also add notes to each swatch, either when you save them or later on.
And...well, there's not much more to Loupe. Once you've created a swatch, the main page begins to fill up with a list of all of your swatches. Each swatch is displayed alongside its hexadecimal color code, a small timestamp, and your notes. All swatches are sorted chronologically, with newest swatches first.
Unfortunately, while Loupe does its job fine, not many people will need a function like this. It's rare that you'd need to know hexadecimal codes while using your iPod, and for those who would benefit from a color catalog, there simply aren't enough features. Loupe doesn't allow you to create folders, for example—and if you're juggling multiple projects, organization is all but necessary. Also, you can't use it like an eyedropper—average color values are all well and good, but it lacks precision. And Loupe display alternative color codes, such as RGB or CMYK values.
All in all, though, Loupe is a simple app that serves a niche audience. While it does lack quite a few features, it has a clean and straightforward design, and there's something to be said for that. Loupe's usefulness ultimately boils down to your individual circumstances.