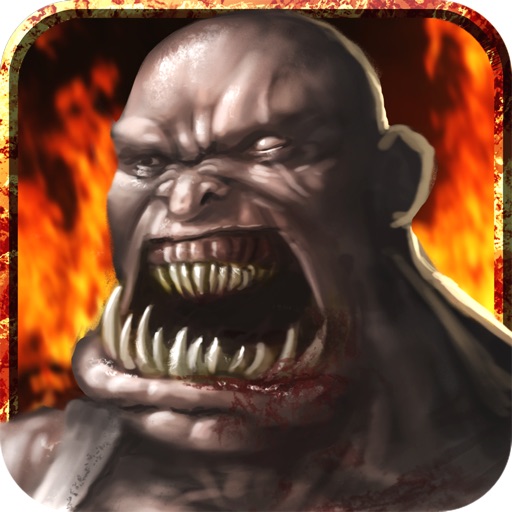 + Universal App
FREE!
Rating:
:: HEAVENLY COMBAT
Hell Quest is an addictive dice-rolling RPG with a fantastic balance between skill and chance.
Developer:
Smuttlewerk Interactive
Price: Free
Version Reviewed: 1.0.3
Device Reviewed On: iPhone 5
Graphics / Sound
Rating:
Gameplay
Rating:
Playtime:
Rating:
Replay Value
Rating:
Overall Rating:
Ironically, Hell Quest, a dice-rolling RPG about defeating evil in hell, shows that randomness can work as the foundation for a game and not be evil.
Here's how battles work: players roll eight six-sided dice that consist of different symbols, and they try to play groups of identical symbols for points. If the symbol is blue, then it can be played by itself, though white symbols can only be played when there's three or more of them rolled at once. The points represent damage, and the goal is to score more points than the opponent in that round, with that difference being the damage done to the opponent.
This is where the wrinkles come in. Players start with eight dice, but also have a semi-random number of backup dice that can replace dice that are played. Also, if all the dice on the board are playable, then players get a new set of eight dice, but as the number of dice lessens, the odds that the player will bust by having no dice to play also increases. This situation is best avoided, as it greatly reduces the number of points that will be scored, opening up opportunities for the opponent to do massive damage. It's possible to stop playing a round at any point, limiting the risk of busting, but also capping the maximum number of points.
Well, not necessarily: there are skills that can be used to hinder the opponent or damage them outright, like by reducing the percentage of their score in the round, or to reduce their number of backup dice. Also, finishing first has its advantage: it allows for mana to be recharged while the opponent is finishing up their turn.
The combat is all about risk-reward, and that dynamic of not knowing what exactly could happen makes for extremely compelling gameplay. Players have active strategies, but there's still the suspense of not knowing what exactly will happen when the dice are rolled. One round could be a stalemate, the next a massive win, or a way for a seemingly-doomed player to save themselves. Players also get to level up their characters and equip new special dice, along with upgrading their skills.
The combat alone is worth checking out the game, which is wrapped up in an RPG structure, with quest ladders to fight on. Players can spend credits on premium memberships for additional rewards, to heal a damaged character, or on additional currency. Frankly, the RPG stuff could be a lot more interesting and straightforward, and a multiplayer option would be fantastic, but it's really just there as wrapping for the fantastic combat system.
Hell Quest is a great game to pick up and play for short periods of time, is perfectly playable one-handed for transit rides, and just has a fantastic combat system. Definitely get this one as a free download.