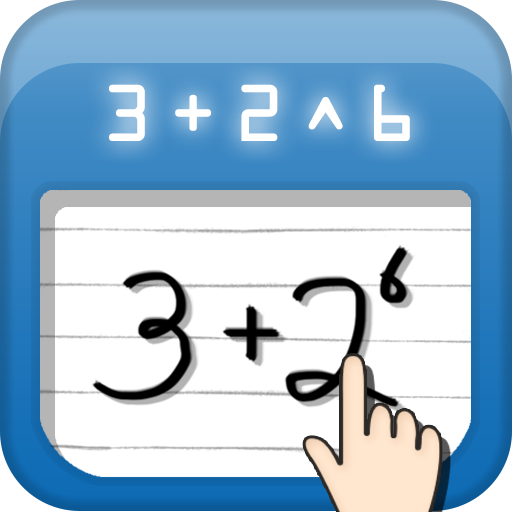 + Universal App
$1.99
Rating:
:: X = EXCELLENT MATHEMATICAL RESOURCE
Handwriting Calculator is a unique application which allows its users to solve complex mathematical formulas, using their handwriting as input, instead of pressing buttons. Its interface is intuitive and easy to use and, as long as your handwriting is dec
Developer:
Jittapong and Kunawut, 2010 Old Men
Price: $0.99
Version Reviewed: 2.0.1
iPhone Integration
Rating:
User Interface
Rating:
Re-use / Replay Value
Rating:
Overall Rating:
One of the greatest inventions ever, excluding fire, the wheel and the Frisbee, is the calculator. So important and useful was this invention, it was actually combined with a watch…and people wore/still wear them proudly. Don't believe me? Ever see a toaster watch? How about a Frisbee watch? I didn't think so.
As advanced as the iPhone's calculator likes to think it is, the fact that it's relegated to a button-interface inhibits its mathematic potential. Can you solve fractions on the iPhone's calculator? What about complex mathematical equations?
Handwriting Calculator allows users to write and solve a variety of mathematical equations/formulas. Users simply write their equation on the screen. As they do so, the equation also appears at the top of the screen, allowing users to ensure they're writing the equation properly. As users approach the edge of the screen, a green arrow will appear, allowing them to advance the screen the length of their equation. Users can edit their equation at any time, by touching the edit button. In edit mode, users can select, delete and retype any/all errors. Once their equation is complete, touching the equal button produces a typed version of the equation, as well as the answer to the equation. Users can further use their answer in a new equation/formula or copy the equation to the clipboard.


Handwriting Calculator also integrates Trigonometry functions, i.e. sin, con, tan, log and ln. To use these, simply tap and hold in the writing area and a series of boxes containing the afore-mentioned variables will appear. Mathematical constants pi and e are also supported.


Handwriting Calculator contains a built-in user guide which shows users how to properly write numbers and symbols on the screen, shows how to properly write equations and provides users with several examples of properly written equations.


All said, Handwriting Calculator is a great resource that's accurate and easy to use. At only .99, it's a great deal and a nice addition to your calculator/mathematical-based utilities.