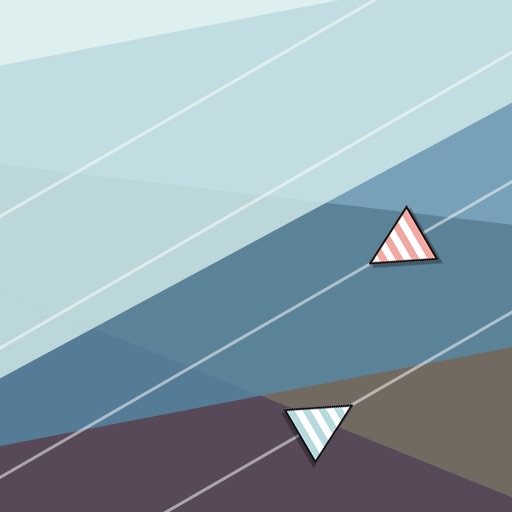 iPad App
FREE!
Rating:
:: GRACEFUL TRICKERY
Halcyon is like a wolf in sheep's clothing; delicately presented but very challenging.
Developer:
Zach Gage
Price: $3.99
Version Reviewed: 1.1
Device Reviewed On: iPad
Graphics / Sound
Rating:
Game Controls
Rating:
Gameplay
Rating:
Replay Value
Rating:
Overall Rating:
Halcyon is the latest offering from Zach Gage; a delicately presented game that looks effortless on first glance. But upon diving into this minimalist game players may find a supreme challenge that is more than they bargained for; in other words, Halcyon is like a wolf in sheep's clothing. But it is also a game that could only be properly realised on the iPad and because of its accessibility it's easy to pick up again and try to persevere.
The game is all about currents; small, coloured triangles that edge slowly across the screen into the middle. If just one pair meets that is not of the same colour, the game is over; so there's no room for mistakes. Fortunately, currents can be swapped onto a new line simply by swiping a path from the old line. Paths are left on the screen if there is no current to take them at the moment they're drawn, for better or for worse, but happily the currents will attract each other if they're the same colour, freeing up screen space to enable players to concentrate on the rest.

Halcyon will sound an alert if a pair of wrongly matched currents are on a collision course, but there's no extra complexity; just the simple act of quickly pairing currents. It can be overwhelming. Fortunately, currents may pass over to the other side of the screen and re-emerge without penalty, so if there is too many pairs to cope with a simple re-arrange will do the trick. Alertness is key; Halcyon will punish players that do not spot matches quickly and often.
The three modes that are included are essentially the same; with the main mode players can choose to start on one of four environments once they are unlocked; the wind, the sea, the land and the stars; the other two modes don't have a set number of waves and so they're perfect for high score achieving.

And yet for all this talk about challenging but simple gameplay, Halcyon offers it all up in a package that is only calm and tranquil. With its generative ambiance that is affected by where players place currents, it can feel like loosely playing a musical instrument. Indeed, with the way the game is presented there's no extraneous matter; score is only displayed upon hitting the top of the screen to pause, and level progress is gently indicated by opposing lines that grow towards the centre of the screen as currents are matched.
Overall, Halcyon is not truly a must have game despite its intriguing air. Its gameplay does not yield more surprise after repeated play-throughs and so may grow tired quickly, even with the Game Center integration that is new in iOS 4.2. But what is here is fresh, engaging and fiercely challenging; if you're looking for something that's unlike many iPad games out there right now then you should get this one.