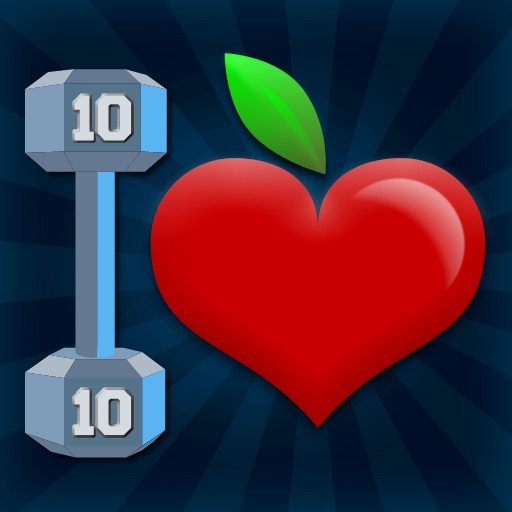 + Universal App
$3.99
Rating:
:: PLENTY OF POTENTIAL
FitClick is a robust calorie- and exercise- tracking app. However, a bloated interface and its weird way of tracking exercise leaves something to be desired.
Developer:
FitClick
Price: $3.99
Version Reviewed: 1.0.2
iPhone Integration
Rating:
User Interface
Rating:
Re-use / Replay Value
Rating:
Overall Rating:
We can all agree, in theory, that maintaining a healthy diet and exercise routine is a good idea. Implementing them? Eh, well...
FitClick's Diet & Workout Tracker takes the calorie-counting "food journal" idea and combines it with a workout tracker, allowing you to keep track of diet and exercise all in one app. The premise is that by setting daily goals and keeping track of your habits, you'll be able to maintain a healthier lifestyle.
To use FitClick, you must first register with FitClick.com and select your diet/exercise plan in accordance with your goals (track workouts only? carb reduction? healthy lifestyle?). From there you can start using the app. On the main menu, "Calorie Balance" will display your daily caloric balance: daily goal - calories eaten + calories burned = how many additional calories you can eat for the day.
For that to work, you'll need to use the "Diet Tracker," which tracks meals. Five "meals" are built into each day; you can add multiple foods to each meal and tweak their serving sizes. For adding foods, you can use either the vast built-in catalog or create a "custom" item.
Workout tracking works similarly: pick an exercise, select a duration, and the app will tell you how many calories you've burned. I find this to be finicky at best; often the calculated calories are highly inaccurate. You'll need to adjust the time to compensate, which is a pain.
All of your information is synced to the FitClick.com website, which is a great resource and superior to the app in many ways. The syncing is flawless, and online access is very useful.
As for the app's design...well, it's lacking, and takes far too many taps-per-task. Why can't I choose from commonly-eaten foods? Why separate meals at all? What's the point? The interface too often obstructs the app's functionality, which is a shame.
Other than its bloated interface and rigid, inaccurate way of measuring burned calories, FitClick is actually a robust app. The food database is good, and the website is wonderful. Whether or not you can get past the interface and incorporate it into your daily routine, however, is up to you. FitClick isn't perfect, but it's a robust start.