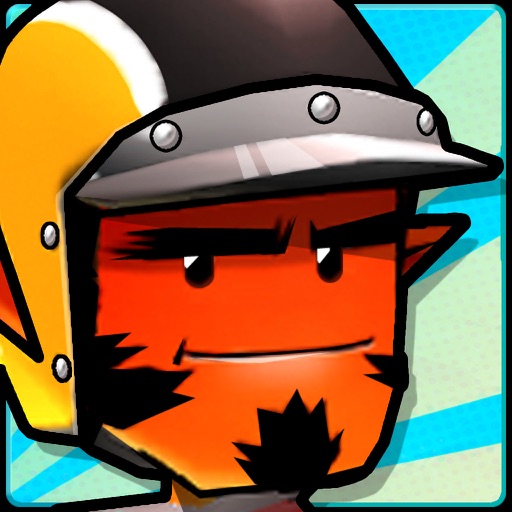 + Universal App
$0.99
Rating:
:: EXCITING
DynaStunts is a stunt bike racing game with charm aplenty.
Developer:
DanLabG
Price: $2.99
Version Reviewed: 1.0
Device Reviewed On: iPhone 4
Graphics / Sound
Rating:
Game Controls
Rating:
Gameplay
Rating:
Replay Value
Rating:
Overall Rating:
It's not often that a game makes me concentrate so much that I find myself holding my breath as I play. That's precisely what happened when I started playing
DynaStunts
. In a similar manner to PC/console hits like
Trials 2 HD
and, more recently, for iOS,
DynaStunts
is a stunt bike racing game. Players get the opportunity to race through 25 different tracks across five different cup challenges. Each of them require some impressive skills in order to complete any of them first time.
Controls are fortunately easy to learn. On the left side of the screen are the accelerate and brake buttons, on the right are tilt buttons to adjust the angle that the biker leans on his bike. The only down side to such a system is that I found my hand covering the speaker of my iPhone most of the time making the music and sound effects much quieter. It doesn't take long at all to work out the finer nuances of such a system. All the races involve some careful manipulation of the four buttons as the slightest knock will topple the bike over.
Unlike something like Trials 2 HD, DynaStunts is not outrageously difficult. It is challenging but it's always thrilling and satisfying. Using a charming, cartoon like appearance goes some way to making it all the more appealing with a plethora of cartoon style explosions and obstacles, too. Such graphics are never detrimental to the physics engine, which is consistently excellent. The entire experience is charming yet punishing at times.
Customizable options are available courtesy of the stars that are acquired through completion of each race. Different faces, helmets, outfits and spray paints can be purchased with these stars, or via in-app purchases for the impatient player. It's not essential to progression but it's a neat touch for many.
DynaStunts ticks all the relevant boxes, except for one rather crucial one. There's no Level Select screen. The only way that players can progress to a certain stage is by working through previous tracks within a cup. Such an omission is unfortunate and sometimes very annoying. For those just wanting to beat their previous high score, it can slow things down a lot.
Other than that strange design choice, DynaStunts is a solid and enjoyable stunt racing game. Trials 2 HD veterans might feel a little cheated by the level of difficulty here, but they'll still find fun to be had. For the lesser mortals like me, it's a great way of reaping the benefits of such a genre with less frustration!