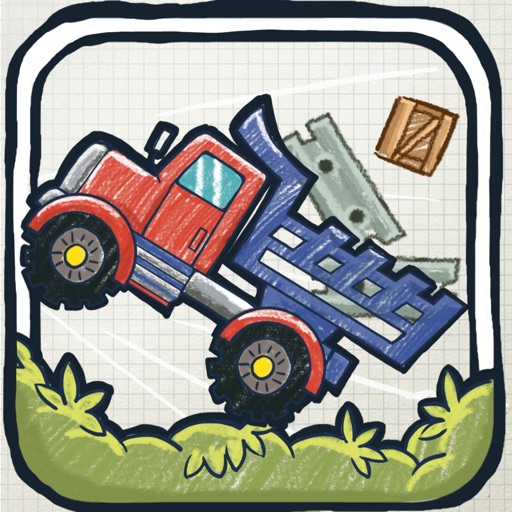 + Universal App
FREE!
Rating:
:: SAFE TRUCKING
Transport the load safely in this steady yet unexceptional physics based driving title.
Developer:
Triniti
Price: $0.99
Version Reviewed: 1.0
Device Reviewed On: iPhone 5
Graphics / Sound
Rating:
Game Controls
Rating:
Gameplay
Rating:
Replay Value
Rating:
Overall Rating:
I'm not after sympathy, but games like
Doodle Truck 2
are frequently the hardest to review. Those games are the ones that are best described as "fine." Respectable enough to play, offering reasonable graphics, an appropriate control scheme, yet a sense that it never really gets hugely exciting. That's
Doodle Truck 2
summed up, perfectly.
The idea is a simple one: players control a truck as it drives off to deliver its load at the end of the level. Controls are a mixture of tilting and tapping to the left or right of the screen. It's a delicate process as between the start and end of the level are a plethora of challenges. In the early stages, players have to contend with small, gradual hills but it's not long before these mounds get a lot heftier and requiring more careful use of the throttle. Accelerate too fast and it's easy to go flying off the hill, losing the truck's load and eventually landing upside down in a heap.
Such hills are the relatively easy side of obstacles, also. Water based challenges emerge with players having to race across a collapsing bridge, while still maintaining their load. Gaps in the road mean they must time a leap just right in order to land safely on the other side. The problem is that these more exciting challenges come along a little too long into the game. Spending the first dozen or so levels with the same obstacles might give the player time to perfect how to deal with them, but it doesn't show off the variety that Doodle Truck 2 has to offer.
Given the importance of the physics engine, it's good to see that the truck in Doodle Truck 2 reacts accordingly to subtle taps and tilts, reducing the chances of frustration. Stars are awarded for speed, as well as the amount of the load that is delivered at the end. Helicopters in the middle of levels provide an additional place to collect up items, with items themselves proving to be quite challenging at times. Metal objects, for instance, can block the path for the truck, while wooden objects break all too easily. Some objects can even explode if mistreated.
These bits and pieces keep Doodle Truck 2 feeling fresh, but it's all a little too slow burning for comfort. It's pleasing on the eye and there's fun to be had but it takes time to discover. Even then, it never really feels as exciting as it sounds.