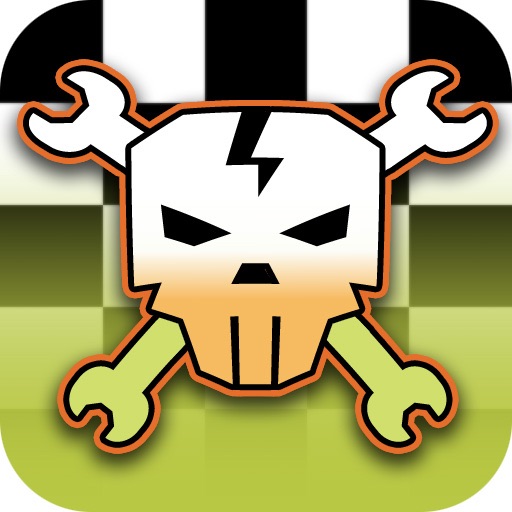 iPad App
$1.99
Rating:
:: GREASED LIGHTNING
Great visuals and sound. Now, if the developers can just do something about those virtual controls.
Developer:
Cobra Mobile
Price: $4.99
Version Reviewed: 1.0
Device Reviewed On: iPad
Graphics / Sound
Rating:
Game Controls
Rating:
Gameplay
Rating:
Replay Value
Rating:
Overall Rating:
My Pappy said, "Son, you're gonna drive me to drinkin' if you don't stop drivin' that Hot Rod Lincoln!"
Well, no, he never said any such thing, but as I played Danger Derby, the lyrics to that old Commander Cody song kept ringing in my ears. Regardless how you feel about the control scheme in Danger Derby (more on that later), you have to admit that it captures the feel of derby racing pretty darn well.
There aren't that many top-down racers for the iPad, so Danger Derby certainly stands out in the App Store. In the standard Arcade Mode, you select your car and then it's off to the races. The earliest track is simple (a basic oval), but the track design progresses in difficulty rapidly. All told, there are eight tracks available, which should provide plenty of challenge for quite a while.
Other than Arcade Mode, there's also a Challenge Mode (beat the time set by the computer) and a Freeplay Mode that lets you set all of the game's variables (track, competition, etc.) to your liking. All modes feature strong sound effects and music, so the sense of atmosphere created by the game is truly a palpable thing.
There's no online component at this point, but it would certainly be worth the developer's time to add it for future versions. This is a game that is meant to be played against human opponents as much as possible. Fortunately, you can play the game head-to-head on the same iPad, so at least there is the opportunity to play against something other than the AI.
As for the controls, well, they're a mixed bag. I found them difficult, but I can see where others might really like them. The game (which adjusts nicely to either landscape or portrait mode) features turn icons at the bottom left of the screen and the brake and gas peddles on the bottom right. This is ok, but I am still unconvinced of the viability of virtual controls on a touch screen. While it would eliminate the ability to play against another human on the same iPad, I'd like to see tilt controls added to the game so that players have a choice based on personal preference.
Danger Derby is a good example of a game that works on the iPad that could never work on the iPhone. The large iPad screen is perfect for this type of top-down racer. It's my hope that the developer keeps adding features to Danger Derby. It certainly has potential, and anyone who is interested in top-down racers should give it a try.