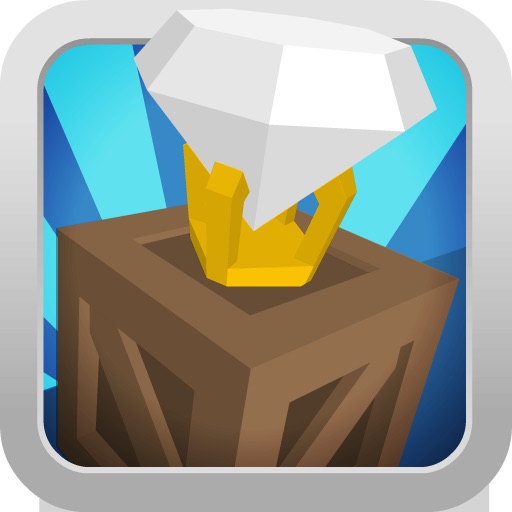 + Universal App
FREE!
Rating:
:: LACKS PIZZAZZ
When it comes to seeing things from a different angle, this game offers a complete range of them. See how this 3D, physics-based puzzle game stacks up to its competition.
Developer:
Stumpytree LTD
Price: Free
Version: 1.05
App Reviewed on: iPhone 4
Graphics / Sound
Rating:
Controls
Rating:
Gameplay
Rating:
Playtime
Rating:
Re-use / Replay Value
Rating:
Overall Rating:
For gamers who love a puzzle game that comes with no explanation and very little personality,
Crate 360
is the one try out. It features hundreds of puzzles that all revolve around the premise of removing blocks to safely lower a jewel that has been stacked upon them. Get all the jewels to safety and the level is finished.
The concept is simple enough, but the actual game can be mind-bendingly difficult. As players rotate, zoom and tilt the 3D environments, they will be able to view the playfield from any angle. What looks like an easy level, with just a few blocks to remove, becomes difficult when viewed from another angle, revealing that the entire stack of blocks will come crashing down if the player removes the wrong one. It may take a number of tries, but it can be quite satisfying when the puzzle is finally solved. It feels a little like getting a knot out of a shoelace, except that there's more knots waiting for you, once you do.
The 3D visuals are very smooth and the animated backgrounds look nice. However, there's nothing too fancy going on. The graphics are rather plain and simple, without much in the way of special effects. Just plain looking boxes and crates set in the middle of nowhere with geometric shapes floating out in space. Perhaps a themed environment, something other than a platform in oblivion, would cheer the game up and make it feel a little more inviting. It is very colorful, though.
While the puzzles in Crate 360 are sufficiently difficult to solve, one area where it should be easy is in the explanation of just how to play it. These days, it seems like a lot of games do too much hand-holding -- they run a player through a tiresome tutorial, explaining the painfully obvious, before allowing the player to enjoy exploring a game's deeper mechanics by themselves. Well, this game is woefully devoid of any such thing, and to a fault. There's no explanation on how to play, what the different crate types do, or even what the objectives are. The player is simply left to figure everything out on their own. Thankfully, most of the rules are rather straightforward and can be gleamed by trial and error, but it still leaves a lot unexplained.
Crate 360 comes with 16 free levels, requiring a $1.99 in-app purchase to unlock the full game for a total of 220 levels and new block types introduced as the player advances. Crate 360 does standout somewhat from other physics-based games. For one, the object isn't all about smashing structures by flinging things at them. For another, it requires some finesse and a lot of planning ahead to solve the more advanced puzzles. Albeit, while the graphics are nice, they do lack the glitz and glamor of some other, more well-known physics-based games.