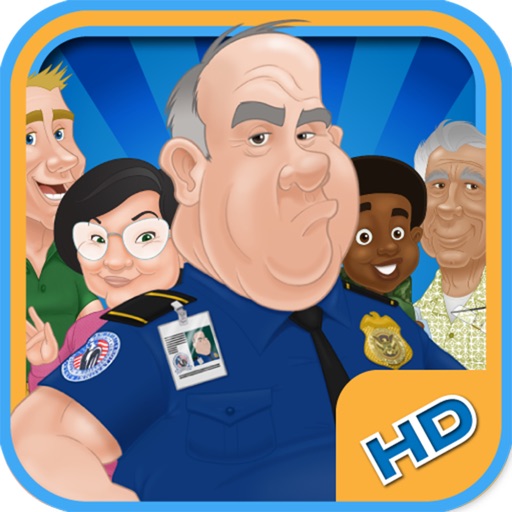 iPad App
FREE!
Rating:
:: MADNESS INDEED
Play the role of a TSA agent as you direct travellers to their relevant checkpoints. It's a surprisingly stressful task, however.
Developer:
SGM Games
Price: $0.99
Version Reviewed: 2.0
Device Reviewed On: iPad 2
Graphics / Sound
Rating:
Game Controls
Rating:
Gameplay
Rating:
Replay Value
Rating:
Overall Rating:
Combining time management sensibilities with line drawing mechanics,
Checkpoint Madness
is a flawed but interesting take on the job of the infamous TSA agent.
Players are tasked with the role of redirecting travellers to the relevant screening area, while also checking everyone for potential threats. Three different areas, categorized as green, yellow and blue, are available, with passengers directed through drawing a line from them to the relevant checkpoint. Much like in
Flight Control
, collisions shouldn't be allowed although
Checkpoint Madness
does accept a certain number of clashes before it's game over.
Drawing the lines is simple enough, but it's keeping an eye on everything else that can get tricky. Scanning luggage means that, sometimes, a threat can be uncovered, requiring tapping on the scanner to remove it. Similarly, travellers can be considered a problem, blinking red with an alarm sounding. Again, tapping is required before they leave the checkpoint. Individually, it doesn't sound too bad but with numerous things to keep an eye on, Checkpoint Madness can get stressful. Only three mistakes are allowed before it's game over. Even on Easy Mode, this proves tricky. While the level takes a while to get going, it's not long before there's a steady stream of travellers to direct, plus some of them prefer to bounce off their checkpoints rather than follow the path correctly, adding further irritation.
There's clearly fun to be had with Checkpoint Madness, but at times, it feels more stressful than enjoyable. There are also issues with the presentation. The muzak begins to grate with background announcements sounding less funny than they think they are, plus the entire game is just quite plain to look at. Still, there is satisfaction to be had here. Just don't expect to be playing Checkpoint Madness for hours to come. This is more for a brief interlude between other games.