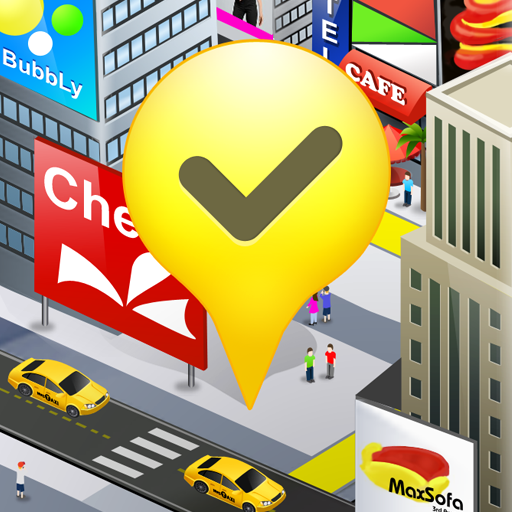 iPad App
FREE!
Rating:
:: KING OF CHECK-IN APPS
CheckIn+ HD allows you to check-in with Foursquare and Facebook Places at the same time, all while showing you where your friends from both networks have checked in recently as well as local mayorships.
Developer:
SHAPE Services
Price: $1.99
Version: 2.0
App Reviewed on: iPad
iPad Integration
Rating:
User Interface
Rating:
Re-use / Replay Value
Rating:
Overall Rating:
Ever since
Foursquare
splashed on the social media scene and gracefully shoved
Loopt
out of the way, there have been numerous check-in apps that have desperately tried to reap what Foursquare has sown. Many have failed, with the exception of Facebook Places, which should surprise no one. As a result, some apps, like
GoWalla
, tried to combine check-in services. CheckIn+ does exactly that, but without adding in its own check-in service. With CheckIn+, one can check into places via Foursquare and Facebook Places at the same time.
CheckIn+ is unlike any other check-in app in that it presents where one can check in on a Google Map. Instantly, users can see all of the registered places with both services in a 25-mile radius. If needed, places can be added to Foursquare - sadly not Facebook Places, as they reserve Places registrations for the actual businesses to complete on Facebook itself. To check in, simply tap on one of the markers and then select the place from a drop-down list; a list will appear if the marker represents a bunch of places. By zooming in to reduce the radius, the likelihood of seeing a drop-down list will likewise reduce as the places can spread out more easily across the map view.
Also unlike other multiple check-in apps, CheckIn+ will display all of a user's friends from both services simultaneously. With this information, users can surprise them with super-stalking skills or use it as a recommendation of a decent place to drop-in and check out (while checking in).
CheckIn+
also gives users the ability to monitor their mayorships and Foursquare leaderboards. This is a big deal only in that any other location app that incorporated Foursquare never incorporated any other feature of Foursquare other than simply checking in with Foursquare. These check-ins didn't always count toward mayorship check-ins, and they never counted in the leaderboards. While yes, these features are a little silly, they're a fun part of Foursquare, and by implementing them, it will motivate Foursquare users to consider using
Checkin+
if they use Facebook Places too.
Obviously, CheckIn+ is not an app for those who only use Foursquare or Facebook Places, as it's hard to justify paying for an app that uses services one can get for free, despite some of the extra features. But as someone who uses both social services and/or would like to see automatically where friends are checking in on a clear map, then this is well worth the price. If nothing else, it's so nice to just open one app for both services and reap the benefits of both. If it included Loopt or SCVNGR, it would be a downright perfect check-in app.
[gallery link="file"]