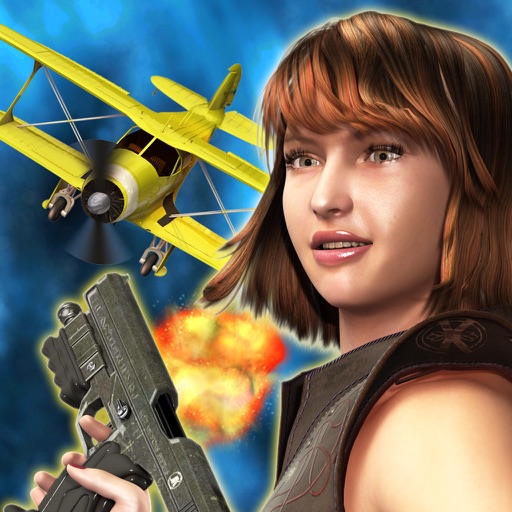 + Universal App
FREE!
Rating:
:: B SHOOTER
B-Squadron is an action-shooter featuring 11 missions throughout 3 different settings for players to shoot their way through.
Developer:
Regis Rigal
Price: $0.99
Version Reviewed: 1.80
Device Reviewed On: iPad Mini
Graphics / Sound
Rating:
Gameplay
Rating:
Replay Value
Rating:
Overall Rating:
B-Squadron: Battle for Earth
provides shooter action that takes a more forgiving approach than what is normally seen in other shooters. It also has decent visuals that will draw gamers in during its 3 short stages and a total of 11 missions. The battle for Earth begins in space, piloting a shuttle to collect crystals during the first mission and discovering and destroying mysterious enemy forces during the next three. After the first stage is complete, the battle continues on Earth against those same enemy forces. This time, players are piloting an old war plane. The final stage takes the battle into the future with a futuristic aircraft. Once those final three levels are complete, the game is left open for additional content still to come.
The challenge in this title certainly lacks no matter what level of difficulty is played. Whether playing on hard or bullet-hell mode, I could easily dodge the few bullets and I made my way to the end with very little challenge. As for the two regular difficulty modes, they end up providing a rather dull, slow-paced challenge that isn't fun for anyone. While the enemies are interesting and bullets can come by the numbers in bullet-hell mode, nothing negative will happen outside of losing a little bit of health when taking multiple hits from enemy bullets. I was able to mess up time and time again and pay no penalty, allowing for an easy walkthrough of this title. This ends up taking all the enjoyment and replay-ability out of the game. Bullet-hell mode at least makes it a little more interesting, but it still lacks enough excitement--most players will be done and moving on in very little time.
The controls are fine and handle just as well as any other shooter. Starting out, most players are going to appreciate the game's approach with the multiple surroundings and aircraft, but no one will care to replay this title after one play. Also problematic is the inadequate choice of music throughout the game and the uninteresting scoring system that will not entice anyone to try for higher scores. In addition, the boss battles are rather bland and aren't much of a challenge.
B-Squadron: Battle for Earth needs to sharpen up on many aspects if it's going to provide for a more interesting and challenging play-through.
[gallery]