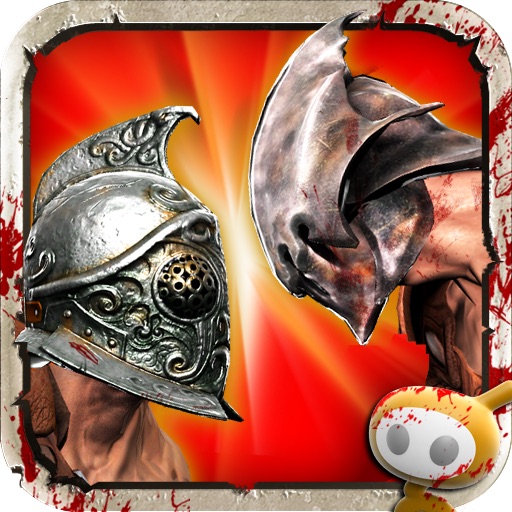 + Universal App
FREE!
Rating:
:: SIMILAR BLOOD
Blood and Glory is Glu's freemium take on Infinity Blade-styled gameplay.
Developer:
Glu Mobile
Price: Free
Version Reviewed: 1.0.0
Device Reviewed On: iPod touch 4, iPad 2
Graphics / Sound
Rating:
Gameplay
Rating:
Playtime:
Rating:
Replay Value
Rating:
Overall Rating:
Blood and Glory
is Glu's latest freemium title, and it takes direct inspiration from iOS mega-hit
Infinity Blade.
The gameplay is similar, if not identical; players stand in one-on-one arenas against a gladiatorial opponent, dodging, defending, and parrying attacks in order to stun the enemy to unleash combos upon them. Fights are set up as part of tournament ladders, where players must defeat several opponents in a row to win, getting coins to spend on new items like weapons, shields, and helmets. Rubies serve as this game's credits, being used to buy coins, special items, and potions for healing and stat buffing. They can be acquired through leveling up, by completing Tapjoy offers, and by purchasing them.
Blood and Glory may be familiar, but the gameplay does work well here, and actually provides more of a challenge. Without magic spells, and with smaller parrying windows than its progenitor, it proves to be far more difficult. At least potions, while not exactly cheap to acquire, can be used mid-match as well. The game does look really good on the iPad and Retina Display. Plenty of interesting armor and weapons are available despite the concept of this game being ever-so-slightly more grounded in reality, including one shield that would make Ed Gein proud.
The game would have done well to differentiate its product a bit more than as it currently stands. While it's structurally different, the gameplay cuts close enough that it actually is on that line of being a clone. While unlike the
Ninja Fishing controversy
, no one is going to be weeping for Epic and ChAIR Entertainment, especially as they've reportedly
made over $20 million from Infinity Blade
. However, principally, it's about the same, and more differences in gameplay to make it its own game would have been appreciated. Also, this game will be very difficult to play for free for a long time, as potions are only available through the in-app credits system. In fact, a lot of money will need to be spent in order to explore the game's depths, especially with tournaments that cost large amounts of gems to get in. While making some items expensive is par for the course for other freemium Glu games and is perfectly fine with me, making potions only available through credits that are sparingly given out in-game does not sit well with me.
Sure, it's basically Infinity Blade wrapped up in a Glu freemium shell. But Infinity Blade was quite fun, and Blood and Glory follows a similar path to feature similarly entertaining gameplay. While the freemium elements providing a glorified paywall after a short amount of time is a little on the annoying side, this is a good stopgap for people who are tired of slaying the God King, and need something to do while they wait for Infinity Blade 2. Android owners might get more satisfaction out of this, as their platform lacks for Infinity Blade entirely.