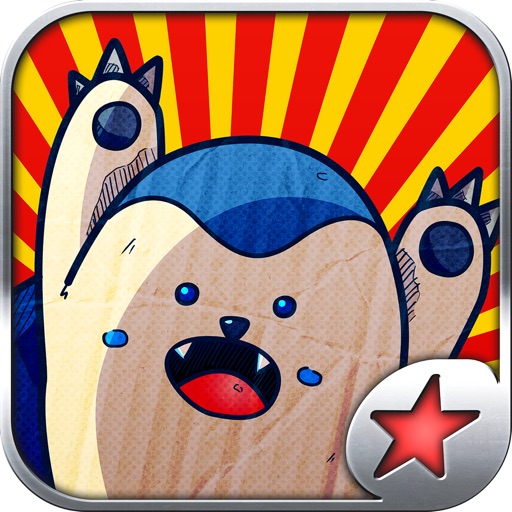 + Universal App
FREE!
Rating:
:: BOUNCY SIMPLICITY
Colorful and vibrant, The Adorables is a Peggle-style game that feels a little light on content but certainly is fun while it lasts.
Developer:
Thumbstar
Price: FREE
Version Reviewed: 1.0
Device Reviewed On: iPhone 5
Graphics / Sound
Rating:
Gameplay
Rating:
Playtime
Rating:
Replay Value
Rating:
Overall Rating:
Remember those days when iOS games couldn't get better than
Peggle?
Everyone was downright addicted to bouncing balls around the screen, waiting to hear the delightful Ode To Joy play upon completion. Just the thought makes you want to go dig it out, once more.
The Adorables
uses quite similar game mechanics to that, but with a dash more color. It's quite fun too, although the free version is quite limited.
Unlike
Peggle
, the ball goes upwards this time. The aim is to hit the pegs scattered around each level. Once hit, the peg lights up and a rainbow symbol shows up nearby. Collect up the rainbow symbols and follow them towards the next peg for maximum points. This has to be done three times to complete the level, with bonus points gained for collecting as many of the green, orange and purple rainbows.
Controls are a mixture of a tilt and touch based. Players flick the ball upwards, then hold a finger down to use a beam of light that directs where it goes. Subtle tilting invokes after-touch, making turning a little easier.
It's a simple game with its first world of levels hardly causing a challenge. There are obstacles to negotiate but it's nothing too taxing. The only real challenge stems from trying to collect all of the parts of the rainbow, which does extend longevity a little. Given the first dozen levels take hardly any time at all to finish, I'd have appreciated more expansion as to what's to come in terms of game mechanics.
There's enough here to lure me into wanting to see what future levels are and pay out the $0.99 for the extra worlds. It's quite fun to play, if a little easy. However, there's the sense that The Adorables is just a demo, requiring money to see its true potential.